Synphosis
Edit
after celebrating phazon not being in prison...the gang has a hangover and Grimshot needs to gather everyone back
Characters
Edit
Mane 9 (im not botherd to name everyone XD)
Grimshot:(groan)
Grimshot:wow what a night...
(Gets up)
Grimshot:looks like Rainbow Dash wasent the only one who was drunk...
(pulls out chair)
Grimshot:god, what happend
???:all i know is you owe me money...(hears magic)
Grimshot:what the?-
(sees a fat pony with two other ponys behind him)
???:my name is Fat Pony, and you owe me money
Grimshot:woah woah, wait a minute whats going on?
Fat Pony:you have 5 seconds to tell me where my money is...
Grimshot:Woah wait why do i owe you money!?
Fat Pony:5...
Grimshot:WAIT!, I WAS HUNGOVER, WHAT EVER I DID IM SORRY
Fat Pony:4...
Grimshot:WAIT!
Fat Pony:3...
Grimshot:Please!...
Fat Pony:2...1...
(both gaurds get hit by a mysterious figure)
Fat Pony:what the!?-
(Fat Pony gets hit with a bat)
Grimshot:who...who are you...
(mysterious firgure reavels to be pinkie pie)
Grimshot:Pinkie Pie?..
Pinkie Pie:come on...we dont have much time left.
(other guards come up)
Guards:hey!
(Pinkie Pie grabs Grimshots Hoof and they jump out of the window, while the guards magic blast misses)
(both land on carrige)
Pinkie Pie:YAH!!!
(Pinkie Pie rides, while the gang chases after them)
Grimshot:WHAT THE HELL PINKIE!, WHAT THE BUCK IS GOING ON!
Pinkie Pie:JUST SHUT UP AND SHOOT MAGIC!...
Grimshot:wow...thats a new pinkie pie ive never seen.
Pinkie Pie:DID I BUCKING STUTTER!, SHOOT!
(Grimshot shoot magic blasts, hitting one of the carriges)
(the other carrige trys to shoot magic blasts, but pinkie pie uses manuvers to avoid them)
Grimshot:oh oh...i think i can feel the hangover sickness coming...
(Throws up, going on the gangs driver face, making the carrige get destroyed)
(even though no ones chasing them anymore, grimshot is still throwing up)
Pinkie Pie:let it all out...(puts hoof on back)
(night time)
Grimshot:so Pinkie...what happend to you?, you used to be so happy and random
Pinkie Pie:(says in a serious voice) What do you- ahh, ahh CHOOOOO (says in normal pinkie pie voice) MEAN SILLY :D
Grimshot:0-0, im not even gonna ask...
Pinkie Pie:DONT WORRY WE NEARLY THERE :D
Grimshot:nearly where?...
Pinkie Pie:Appleville of course...(comes up to Appleville)
(both Pinkie Pie and Grimshot go in)
http://www.youtube.com/watch?v=wFEx_XMmcSs
(sees a bunch of cow ponys)
Applejack:well ill be, if it isent mah good freind GTF
Grimshot:hey AJ, its good to see you too
Applejack:Hey Bart, get me two ciders.
Grimshot:oh please no...
Applejack:heh heh seems you got hit hard with the hangover too
Grimshot:wait, i wasent the only one?
Applejack:nope, we all did, Rainbow Was the first of course
Grimshot:do you remember anything?
Applejack:nope, but i came across my ancestors town, Appleville, and i rebuilded it
Grimshot:i see, wheres Phazon and Blaze?
Applejack:in there...(points to room)
Blaze:you ready...
Phazon:i was born ready...
Grimshot:hey gu-....(poker face)
(sees them hitting each other with pillows)
Blaze and Phazon:Bad Poker Face
Grimshot: ....
(joins in)
Applejack:now lookie here partners, Rainbow Dash, Fluttershy and Twilight are missing, so we need to spilt up.
Applejack:me and Blaze here will find Rainbow Dash, Grimshot and Pinkie Pie will find Fluttershy and fianaly Phazon and Windrider will find Twilight.
Applejack:move out!
(shows everyone going out in differant carridges)
Blaze:i cant wait to find Rainbow Dash XD
Applejack:Blaze...this here is serious, she could be anywhere.
(hears a sound)
Blaze and Applejack:Poker Face
(look behind, sees Rainbow Dash)
Rainbow Dash:(shows sleeping)
Blaze:Rainbow Dash???, what are you doing back there
Rainbow Dash:ZZZZ
Applejack:wow we found her quickly
Blaze:i think we only found her quickly is becuase the author was too lazy
Cartoonfan7360: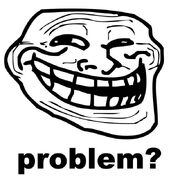 Grimshot:so where do you think Fluttershy is?
Pinkie Pie:i dont know, but i bet shes in the forrest
(shows a forrest)
(Shows a Hunter)
Hunter:i wonder if i can find a dear, or maybe a rabbit
Hunter 2:yeah, i would love one of them
Hunter 3:wait, whats that noise?
(shows figure shooting Hunter 1 and 2)
Hunter 3:AHHHHH!!!!
Hunter 3:what are you!?
(shoots everywhere)
(shows figure behind Hunter 3)
(shoots him with tranquillizer)
Fluttershy:you wont Hunt again now...
Grimshot: ...what the buck...
Fluttershy:oh im sorry was i too hard...
Grimshot:err...
Pinkie Pie:THAT WAS FAN DABBY DOSIE, WHERE DID YOU LEARN TO DO ALL THOSE MOVES?
Fluttershy:i err...dont want to talk about it
Grimshot:thats fine, we just need to get back to ponyville
(shows a carridge)
Phazon:wow...tonight is beutiful...
Windrider:yeah...
Phazon:...Windrider
Windrider:yes?...
Phazon:thank you...
Windrider:for what?...
Phazon:for well...everything...
Phazon:you were the only one who thought i could change...if it wasent for you...i wouldent be alive
(Shows Windrider Beaming)
(shows them both looking at each other deeply)
(both getting closer...)
(about to kiss, but a rock bumps the carridge)
Phazon Windrider:OOF!...
(bump sends them both into each other, kissing)
(still kissing)
(carridge stops)
(still kissing)
(stops)
Phazon:...
Windrider:...
Phazon:heh heh...
Windrider:hehe...
(both luaghing)
Grimshot:seems weve nearly found everyone, all we have left is twilight
Blaze:what about rarity?
Grimshot:we found her drunk in a barrel singing coldplay.
Blaze:oh...
Phazon:wait minute....
Windrider:what?
Phazon:i hear something....
(all mane 5 hear galloping)
Rainbow Dash: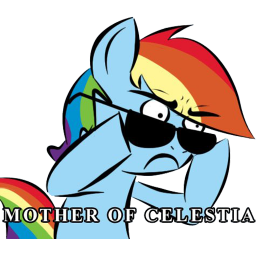 (sees fat pony leading a gang)
Fat Pony:WE COMING AFTER YOU PONYS!
Grimshot:....everyone....carridge....now
Fluttershy:but what about Twil-
Grimshot:CARRIDGE!
(all run)
Rarity:(in a druken tone) WE USED TO (hiccup) RULE THE WORLD...
(Grimshot carrys Rarity)
Rarity:i....love you.....grimshot
Grimshot:yeah of course you do NOW LETS GET ON THE CARRIDGE!
(all get on)
Grimshot:YAH!
(shows stallions galloping away from Fat Ponys Gang)
Rarity:hey guys....where, whys there a fat person chasing us?, did we steal his burger?
(Rarity jumps up)
Rarity:YOOOO HOOOOOO, OVER HER-
(Applejack tackles her)
Applejack:GOOD GRAVEY GIRL, SNAP OUT OF IT!
Rarity:BUT APPLEJACK...ONE DOES NOT SIMPLY-
Applejack:MOTHER OF CELESTIA, SHES NOW USING MEMES!
(gangs shoots lots of magic bolts)
Blaze:can i admit something before i die...
Grimshot:this is gonna be interesting...
Blaze:Rainbow Dash....remember when i said you were hot...
Rainbow Dash:no, but thank you....
Blaze:well...i think Applejack's hotter...
Rainbow Dash:oh that fine- WAIT WHAT!?
Applejack:im flatterd...
Rainbow Dash:HOW DARE YOU LIE TO ME!
(fights with Blaze)
Grimshot:you shouldent of done that Blaze...OH GREAT RARITY, NOW YOU GOT ME DOING LINES FROM CREEPYPASTAS
Pinkie Pie:whats that taste like?...
Grimshot:sigh...
(shows Fat Pony Gaining up on them)
(Shows Fat Pony with Dynamite)
Phazon:WHAT THE HAY!!!
Grimshot:WHAT THE BUCK IS WRONG WITH YOU!?
(Shows Rainbow Dash with Blaze in a neck hold) Blaze:wait, whats that-GRAHGH!
(shows a purple pony in a blac- oh you know what, you know who it is, if you dont your not a brony)
Grimshot:TWILIGHT!?
(jumps over fat ponys carridge, throwing down a lit match)
(shows the dynamite lit)
Fat Pony:....son of a-
(carridge blows up)
All of them:YAY TWILIGHT!
(Twilight jumps in)
Blaze:what happend?
Twilight:...you dont want to know (MAYBE A POSSIBLE SPIN OFF EPISODE FOR TWILIGHT?, SAY IN THE COMMENTS BELOW)
Blaze:ok....
Phazon:whats celestia gonna think of this?...
Twilight:she'll probably get really mad.
Celestia:HAHAHAHAHAHAH!!!!!!!!
THE END