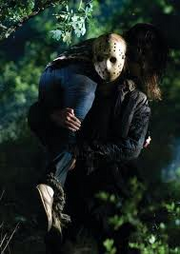 This story is a direct sequal to Blue pants : Jason vs Jeff
Jeff ran towards Chucky..ready to save andy until...A large fist grabbed him by the shrit and lifted him into the air and threw Jeff into a tree...it was Jason. Jeff looked up at Jason and picked up his knife.
Jeff : OH...YOU WANNA PLAY NOW?....WELL THEN...LETS GO.
Jeff slashed his knife into Jason's knee as Jason fell to the ground onto his legs as Jeff raised his knife nearly inchs from cutting Jason's head off. Jason grabbed onto Jeff's arm before Jeff could stab and twisted Jeff's arm. Jeff grabbed onto Jason's head and began to slam a rock agaist it...but Jason smacked the rockout of his hands and kicked Jeff off him. Jason walked over to Jeff and lifted him agaist the car and slammed his head into the window as glass flew everywhere all over Jeff's face. Jeff grabbed his knife and slammed it into Jason's head right inside his mask. Jason stepped back and fell to the ground as he began to bleed. Jeff looked over at chucky and ran to help Andy.
Jeff : LEAVE HIM ALONE NOW!
Chucky : SHUT UP CLOWN!!! ANDY IS MINE!! HE ALWAYS WAS MINE...NOW DO ME A FAVOR AND GET OUT OF HERE AND GO CRAWL BACK INTO YOUR LITTLE HOLE JEFF.
Jeff : NOT WITHOUT A FIGHT!
Chucky : FIGHT!? WHAT FIGHT?! ANDY WAS MINE WAY BEFORE YOU EVEN MET HIM...SO GROW UP AND JUST FORGET ABOUT HIM BEFORE I COME OVER THERE AND STAB YOU RIGHT THROUGH THE SKULL!!!
Jeff : TRY ME CHUCKY...TRY ME.
Chucky : YOUR PUSHING YOUR LUCK JEFF....YOU MAKING YOURSLEF SOUND BETTER THEN WHAT YOU REALLY ARE!!!..SO...STOP PLAYING HERO..FOR ANDY...AND GO..FOLLOW AN ICE CREAM TRUCK OR SOMTHING.
Jeff : SAYS THE GUY IN A GOOD GUY DOLL"
Chucky ; YOU LISTEN HERE JEFF.....IM GETTING SICK AND TRIED OF YOU...ACTING SO GOOD TOWARDS ANDY...YOUR MAKING YOURSELF LOOK LIKE AN COMPLETE IDIOT..SO I SUGGEST YOU LWAVE NOW....BEFORE IM IN THE MOOD TO SLICE YOUR THROAT OPEN
Jeff : THEN COME AT ME!!!!
Chucky suddenly jumped into the air and landed on Jeff's head. Chucky suddenly started to stab Jeff's head over and over again as his face was coverd in massive cuts and slices.
Jeff : GET OFF OF ME YOU PERVERT!!!
Then Jeff lifted Chucky into the air and smacked him across the tree twenty times as chucky suddenly started to spit up blood.
chucky : YOU CAN KILL ME ALL YOU WANT JEFF....JUST REMEMBER....I WILL ALWAYS COME BACK..
Jeff : Wanna bet?...
Jeff suddenly grabbed his knife and sliced it across chcuky's head as chucky's head rolled alway next to the car. Jeff took a deep (sigh) and walked over to Andy and sat down beside him.
Jeff : Are you okay andy?...
Andy : Yes...why?..
Jeff : OH nothing....(pulls out knife)
Andy : WHAT ARE YOU DOING?!?
Jeff : Putting an end to everything you put me in
Andy : WHAT?..WHY?..I thought we were friends
Jeff : HA friends?...friends are nothing to me....
Andy : why are you doing this?....
Jeff : OH SILLY LITTLE ANDY YOU.....YOU STILL HAVE MUCH TO LEARN..
Andy : LEARN WHAT?..
Jeff : THIS! (raises knife)
Andy : NOOOOOOO
Suddenly as Jeff raised his knife high in the air....A arm grabbed onto Jeff's arm again and threw him to the ground...IT WAS JASON...AGAIN. Jason picked up Jeff by the neck and threw him agaist the tree and slammed his face into the tree five times and shoved Jeff's own knife into Jeff's back.
Jeff : WHAT DO YOU WANT FROM ME YOU HOCK MASKED FREAK?..
Jason : (stabs Jeff in the back with the knife)
Jeff : STOP IT!!!
Jeff suddenly turned and smack Jason across the face and kicked him agaist the van and took the Knife from Jason's hands and began to stab him in the head over and over again.
Jeff : WHY WON'T YOU DIE?!?!?
Jason : (kicks Jeff off)
Jason walked towards Jeff again and lifted Jeffby the shirt and threw him at the ground and pulled out his machette and began to stab Jeff over and over again.
Jeff : STOP THIS NOW!!!!!!
Jeff suddenly got up and knocked Jason to the ground and took the machette and slashed at Jason.
Jeff : I WANNA SEE YOU BLEED NOW!!!
Jason grabbed onto Jeff's face and began to crush it. Jeff's face beagn to bleed as Jason pressed harder onto Jeff's face. Jeff began to spit blood as Jason pressed harder and harder until Jeff suddenly punced Jason in the face as the both fell to the ground. Jeff got up and grabbed Jason as he raised his knide in the air ready to slash Jason's head off.
Jeff : SAY GOODBYE!!!
Suddenly as Jeff was about to slash Jason...a scream came from the distance as Andy cam running towards them carring matchs.
Andy : LEAVE ME ALONE!!!!!! (throws matchs near Jason and Jeff)
Suddenly the ground began to catch on fire as the truck suddenly exploded..sending Jason and Jeff into a nearby lake. Andy walked over to the lake as he saw Jeff crawling from the lake. Andy walked over to him with a machette as Andy raised the machette...but ...before....Andy could swing it.....Jason jumped out of the water and pulled Jeff into the lake as they both felll into the deep water. Andy walked over closer to the water and threw the rest of the matchs into the water as the water itself also slighty began burn. Andy wiped away the tears from his face and walked home from the battle scene....and  went to bed.