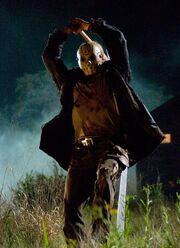 Andy:*to Jeff*Stay.Here.*Gets out car as the man in mask stands up*
Jeff:Sup.....
The Man:.....*raises machete*
Jeff:Uh-oh
The Man:*grabs Jeff by the neck and throws him into the forest,as trees collasp on him*Ch-ch-ch,ma-ma-ma-ma
The Masked Man:(whos Jason,of course)*Throws the trees off of Jeff,and is about to stab him*
Jeff:*Slashes Jason on the stomach twice and then the neck*Ha,Weak*Turns around*Way too easy*eyes riden*
Liu:C`mon,Jeff,we gotta catch up.
Jeff:Cool,Camp Crystal Lake.
Liu:Jeff,wake up!THERE`S A CRAZY GUY OUTSIDE IN A HOCKEY MASK AND A MACHETE!
Jeff:Huh?*looks at switch blade on table**picks up switch blade* Stay.Here.*Walks*
Jason:ARGH*Jeff stabs him(He`s still human at this time)and yells inside to Liu*
Jeff:RUN!
Jeff:YOU!
Jason:*Slashes car repeatedly*
Jeff:YOU FOOL*CAR EXPLODES BLOWING JEFF BACK*
Jeff:*opens eyes and sees Cabin on fire*An.....dy
Jason:*Stands over and prepares to stab*CH-CH-CH-MA-MA-MA-MA
Jeff:What the heck....are you saying?*kicks Jason in crotch,dust falls*
Jason:Ha h-*Jeff kicks Jason in the face,he falls back and hits a tree which falls over on him,knocking Jason out*
Jeff:*sees Chucky beating Andy up,and Jumps to them*
Ad blocker interference detected!
Wikia is a free-to-use site that makes money from advertising. We have a modified experience for viewers using ad blockers

Wikia is not accessible if you've made further modifications. Remove the custom ad blocker rule(s) and the page will load as expected.